The Olive Tree, a symbol of peace, longevity and a provider of one of the greatest natural elixirs of life.
More About Our Company
Welcome to Olive Tree.
Olive Tree is based in Brackley, Northamptonshire and run by myself Sarah since 2009. In 1997 I qualified as a Beauty and Massage therapist working in salons and spas. I soon went on to train in Reflexology, Aromatherapy, Indian Head Massage and also trained as a lecturer to teach and share my therapies to others.  In 2009 I established Olive Tree and began working for myself and continued to train in any different treatments. It was in 2017 that I graduated after 4 years as a Traditional Chinese Medicine Acupuncturist and Naturopath.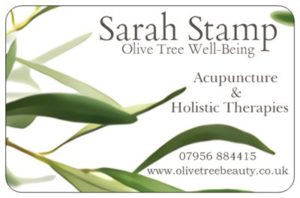 It is with all of my qualifications that I can offer a range of holistic treatments for the individual which encompasses the body and mind for relaxation and wellness. Every treatment is professionally carried out to a high standard and customised to suit the needs of the person.
Thanks for reading and look forward to meeting you soon .
Sarah
Read More
Recent Blog Posts

June 26, 2019 |

June 20, 2017 |
After a busy week the votes were cast and then counted, after a short wait it was announced *insert drum roll ! I...
March 27, 2015 |
It's been 7 years since I first set up my beauty room at home. Although where those 7 years have gone I...
Read More