So recently I was asked by the British Acupuncture publication Acu if I would write and contribute to a piece on returning to work.  Here it is  below.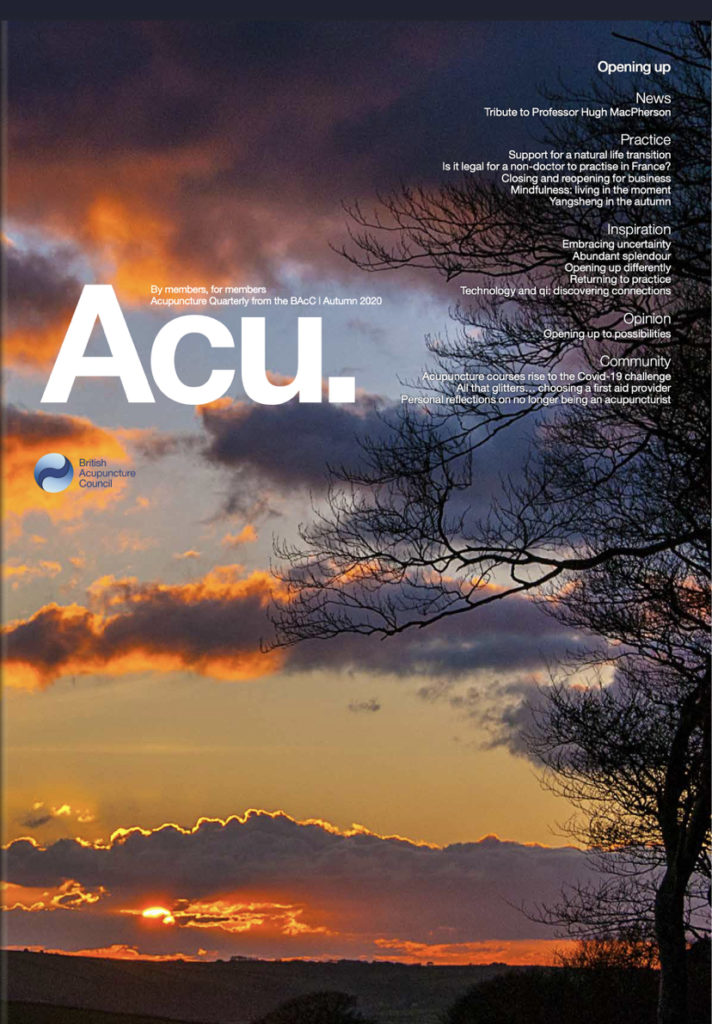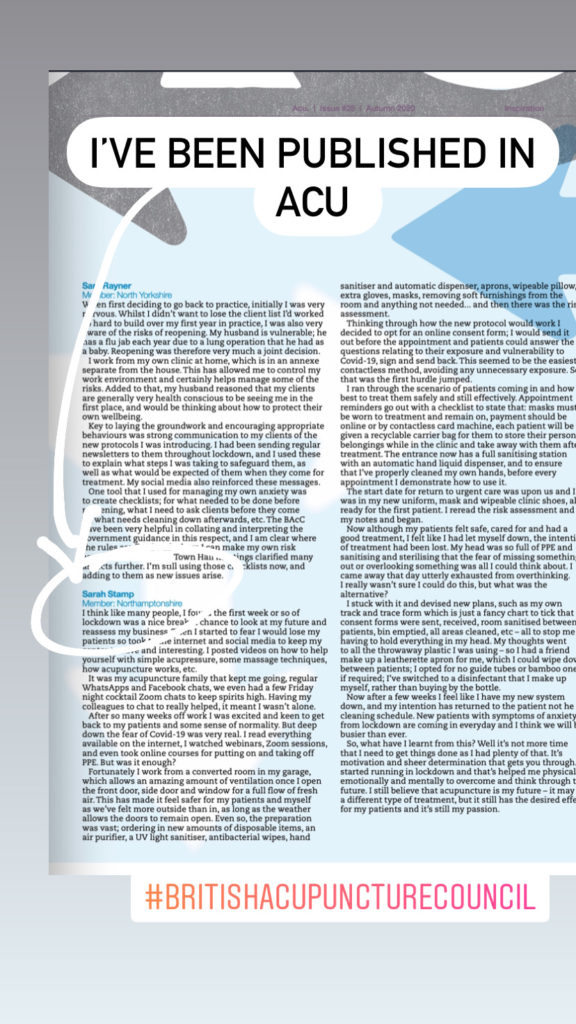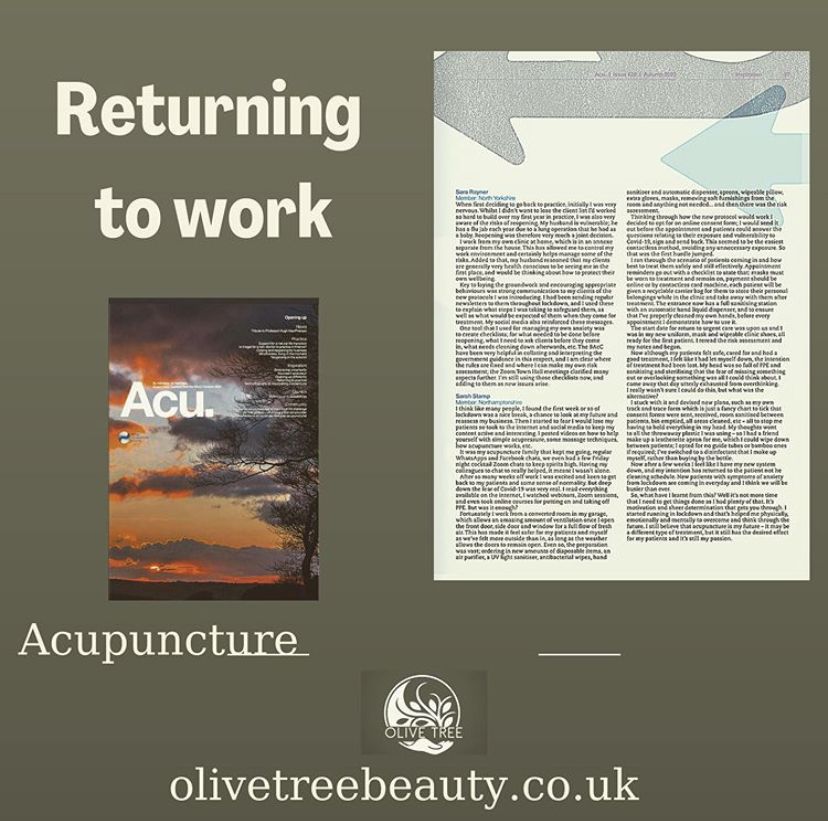 Sarah Stamp
Member: Northamptonshire
I think like many people, I found the first week or so of lockdown was a nice break, a chance to look at my future and reassess my business. Then I started to fear I would lose my patients so took to the internet and social media to keep my content active and interesting. I posted videos on how to help yourself with simple acupressure, some massage techniques, how acupuncture works, etc. 
It was my acupuncture family that kept me going, regular WhatsApps and Facebook chats, we even had a few Friday night cocktail Zoom chats to keep spirits high. Having my colleagues to chat to really helped, it meant I wasn't alone. 
After so many weeks off work I was excited and keen to get back to my patients and some sense of normality. But deep down the fear of Covid-19 was very real. I read everything available on the internet, I watched webinars, Zoom sessions, and even took online courses for putting on and taking off PPE. But was it enough? 
Fortunately I work from a converted room in my garage, which allows an amazing amount of ventilation once I open the front door, side door and window for a full flow of fresh air. This has made it feel safer for my patients and myself as we've felt more outside than in, as long as the weather allows the doors to remain open. Even so, the preparation was vast; ordering in new amounts of disposable items, an air purifier, antibacterial wipes, hand sanitiser and automatic dispenser, aprons, wipeable pillow, extra gloves, masks, removing soft furnishings from the room and anything not needed… and then there was the risk assessment. 
Thinking through how the new protocol would work I decided to opt for an online consent form; I would send it out before the appointment and patients could answer the questions relating to their exposure and vulnerability to Covid-19, sign and send back. This seemed to be the easiest contactless method, avoiding any unnecessary exposure. So that was the first hurdle jumped.
I ran through the scenario of patients coming in and how best to treat them safely and still effectively. Appointment reminders go out with a checklist to state that: masks must be worn to treatment and remain on, payment should be online or by contactless card machine, each patient will be given a recyclable carrier bag for them to store their personal belongings while in the clinic and take away with them after treatment. The entrance now has a full sanitising station with an automatic hand liquid dispenser, and to ensure that I've properly cleaned my own hands, before every appointment I demonstrate how to use it. 
Soon the start date for return to urgent care was upon us and I was in my new uniform, mask and wipeable clinic shoes, all ready for the first patient. I reread the risk assessment and my notes and began. 
Now although my patients felt safe, cared for and had a good treatment, I felt like I had let myself down, the intention of treatment had been lost. My head was so full of PPE and sanitising and sterilising that the fear of missing something out or overlooking something was all I could think about. I came away that day utterly exhausted from overthinking. I really wasn't sure I could do this, but what was the alternative? 
I stuck with it and devised new plans, such as my own track and trace form which is just a fancy chart to tick that consent forms were sent, received, room sanitised between patients, bin emptied, all areas cleaned, etc – all to stop me having to hold everything in my head. My thoughts went to all the throwaway plastic I was using – so I had a friend make up a leatherette apron for me, which I could wipe down between patients; I opted for no guide tubes or bamboo ones if required; I've switched to a disinfectant that I make up myself, rather than buying by the bottle. 
After a few weeks I now feel like my intention has returned to the patient not the cleaning schedule. New patients with symptoms of anxiety from lockdown are coming in everyday and I think we will be busier than ever. 
So, what have I learnt from this? Well it's not more time that I need to get things done as I had plenty of that. It's motivation and sheer determination that gets you through. I started running in lockdown and that's helped me physically, emotionally and mentally to overcome and think through the future. I still believe that acupuncture is my future – it may be a different type of treatment, but it still has the desired effect for my patients and it's still my passion.